We really get this question a lot. live oaks (Quercus virginiana's) are sometimes called the Southern Oak on purpose. They like warm southern air but can tolerate cold weather and even a little snow, but if you live in an area where frost forms in the ground live oaks don't like their "feet" cold. Here's a list of compatible zones using the American Horticulture Society USDA Hardiness Zone Map:
USDA Zone 8a: to -12.2° C (10° F)
USDA Zone 8b: to -9.4° C (15° F)
USDA Zone 9a: to -6.6° C (20° F)
USDA Zone 9b: to -3.8° C (25° F)
USDA Zone 10a: to -1.1°C (30° F)
USDA Zone 10b: to 1.7° C (35° F)
USDA Zone 11: above 4.5° C (40° F)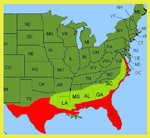 Where live oak trees will grow:
Southern Pride Tree Farm is located in north Florida and ships trees to Texas, Louisiana, Mississippi, Alabama, North Carolina, South Carolina, Georgia and Florida.