History of the Quercus virginiana |
Southern Live Oak Tree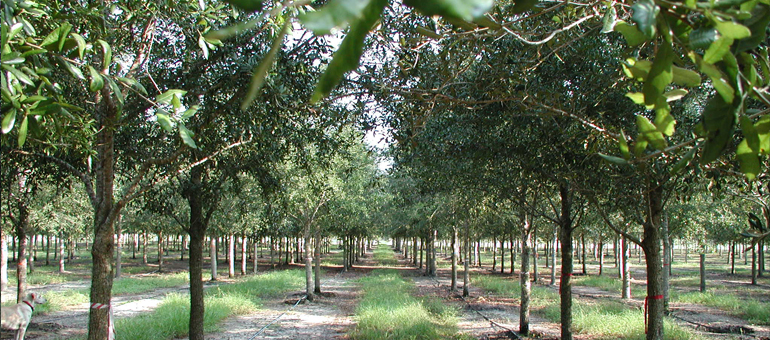 The Quercus virginiana is also known as the Southern Live Oak tree. The Southern Live Oak is a large, sprawling, shade tree that is truly characteristic (especially when draped with Spanish moss) of "the Old South".
Southern Live Oak trees are extraordinarily durable and can live for centuries if left undisturbed or properly cared for in the landscape. They can withstand occasional hurricanes and resist salt spray from beaches and oceans. Since live oak trees grow tall, most live oaks can withstand fires because flames cannot reach the crowns. Live oak trees can also withstand cold weather in the teens and even snow coming back fuller and more beautiful each spring.
Live oak trees are one of the broadest spreading oak trees producing an abundance of shade and privacy. Southern Live Oak trees are used for a wide array of things; corporations and businesses use live oak trees for landscaping in parking lots and commercial building landscapes, cities use live oaks for parks, sidewalks, schools and more. Residential homes add them for their landscapes, to line driveways and communities, and even to help save energy costs (the perfect "green energy saver" and they love their live oak lined streets.
The Southern Like Oak tree has amazing character and a semi deciduous evergreen foliage that is bright olive green when young and when it matures changes to a glossy, dark green. Live oak trees are typically grown from Virginia to Florida including the Florida Keys and west to Texas. The Quercus virginiana Southern Live Oak can be found as far west as California and Oregon.
Live oak trees can grow to a height of 60 to 80 feet and have a spread of 60 to 120 feet depending on the type. There are Southern Live Oak trees that are 600+ years old.
The Southern Live Oak is an easy to care for tree making it an excellent choice for any landscape; once established the tree requires little watering. Pruning a live oak tree is a great choice to keep your Live Oak tree healthy, strong and beautiful. To view pictures of some of the oldest live oak trees click here.
Standard Live Oak | Cathedral Live Oak | Highrise Live Oak
More about the Southern Live Oak trees:
Mature Height: 60 - 80 feet
Mature Spread: 60 - 120 feet
Shape: Round, Spreading
Tree Density: Dense and full
Growth Rate: Medium
Texture: Simple
Southern Pride Tree Farm sells very big live oaks: