Live Oak Tree Characteristics |
Quercus virginiana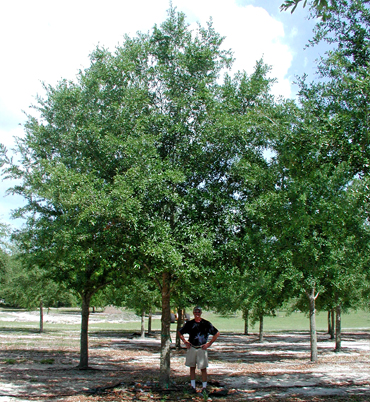 The Quercus virginiana, live oak tree is a true symbol of strength in the South. After reading this page, you will be able to identify the characteristics of live oak trees.
Where are Live Oak trees found?
Quercus virginiana's are found across the lower coastal plains from Virginia to southern Florida and west to eastern Texas. Live oak trees normally grow in low sandy soil near the coast line and also along streams, woods, historical cities in the South, along the Gulf Coast and parking lots across the southern United States.
How to identify a Live Oak tree?
There are many ways to identify a live oak tree. Live oak tree wood is yellowish-brown and is very strong and tough. Live oak trees are usually found with curved trunks and branches.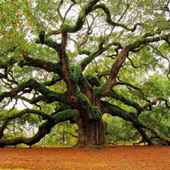 Size:
Live oak trees range in size. Some of the oldest live oak trees are dated over 1,000 years, upwards of 80' in height and over 150' spreads. While selling field grown live oak trees is a business for us, and If you love the magnificent live oak tree like we do, you will get lost in these articles and blogs on the web (I often hope at least some of our young trees will get to be this old and awesome someday!)
The 100 Oaks Project: A photo documentary of the 100 oldest Live Oaks in Louisiana and the South.
Monumental Trees: You will land on the page for the Southern Live oak (Quercus virginiana) however the site is packed with information on other tree varieties that grow very big.
The LaFourche Live Oak Tour - Explore local South Louisiana history through their ancient oaks.
Live Oak Society - Louisiana Live Oak Society members, size and locations. Download registry lists.
Famous Trees of Texas - Texas Forest Service (scroll down and select from the list of Live Oak (Quercus virginiana) to see pictures and historical information on the trees.
Native Tree Society - so far the best pictures and blog of southern Mississippi collection of Live Oaks in Mississippi I could find, (I also found the East Biloxi Live Oak after Katrina)
Florida doesn't seem to have a compiled list of old historic live oak trees however you can search the internet for Jacksonville Florida's Treaty Oak, Gainesville Florida's Cellon Oak, St. Augustine Florida's Old Senator, Safety Harbor's (Pinellas County FL) Baranoff Oak, Sebring Florida's The thousand year old Oak at Highlands Hammock State Park and more. I think I'll do an historic Florida Live Oak blog next.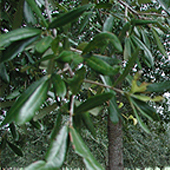 Leaves:
Quercus virginiana leaves stay green year round it is a semi-deciduous evergreen tree. Depending on the live oak tree age the leaves are normally from 2" to 4" long . Their leaves are very simple and may stay on the tree throughout the winter until new leaves grow in the spring. The leaves are usually narrow to a long oval and are stiff. The upper leaf is shiny and dark green and the underside is normally a light green. Leaves are slightly rolled on the underside.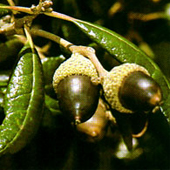 Fruit:
The Southern Live Oak tree produces acorns. The acorns are usually narrow at the base and are about an inch long. The acorns produced by live oak trees are light brown within the cap and dark brown to black throughout the rest of the fruit. They mature in one season and are usually seen in a cluster of 3 - 5 nuts.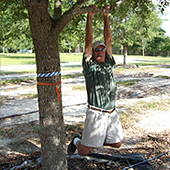 Trunk & Branching:
A live oak tree typically only has one trunk and as it gets older, branches can be upright and droop and curve adding a lot of characteristic to the tree and a landscape. As the tree gets older it may need to be pruned for vehicle or pedestrian clearance underneath the canopy. When the live oak tree is young it should be pruned in the appropriate way to develop strong branches and tree structure.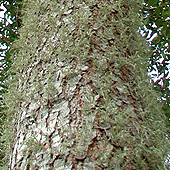 Bark:
Live oak tree bark is a dark to light grayish color and becomes darker with age.
Flowers:
When new leaves develop, the live oak tree produces small flowers. These small flowers are usually not apparent and are brown in color.
References:
Southern Pride Tree Farm sells very big live oaks:
The live oak is a semi-deciduous evergreen medium growing shade tree perfect for landscape applications.

Once established a live oak will grow about 2-4 feet overall and 1 inch of caliper per year.

Live Oak trees sold here are nursery field grown trees and sold by the caliper inch (or diameter of the trunk).

Most of the big Oak trees for sale from Southern Pride Tree Farm are 8", 10", 11" to 12" caliper.

Big oaks for sale can be up to 20+" caliper trees (average 40+ feet tall) for special projects.

Download the UF IFAS Extension Selecting Quality Trees from the Nursery PDF.
Learn about our Quality Root System Guarantee!