Our Cathedral Live Oak Trees |
Quercus virg. 'SDLN' pp12015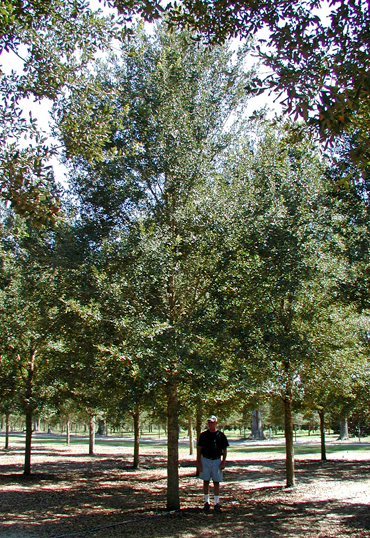 The Cathedral Live Oak tree is one of Southern Pride Tree Farm's cultivar live oaks. The Cathedral Live Oak tree is what we call a 'bells and whistles' tree with its bell like shape and density of branching and leaves. The Cathedral cultivar offers a consistent, tall, medium broad, dense head whether you design and plant one or 50 in the landscape. The Cathedral is a cultivar live oak tree reproduced specifically for applications where a consistent look, tall dense headed tree is desired in the landscape design.
The Cathedral Live Oak tree is perfect for: entryways, parks, luxury or commercial applications any place where consistency, privacy and shade are desired in the landscape design.
The Cathedral Live Oak tree is a Quercus virginiana or Southern Live Oak and it is a cultivar (Quercus virg. 'SDLN' pp12015) meaning it is cloned from a mother tree with the same DNA to copy the dense and upward structure of the tree. Properly pruned, the Cathedral Live Oak tree will not sprawl as wide as a standard live oak tree. The Cathedral does grow as tall as the Highrise and is considered a happy medium between the narrower Highrise Live Oak and a typical standard live oak.
The Cathedral Live Oak tree offers consistency in:
Shape
Height
Branching Structure
Density
Shade
Beauty to any landscape design.
Southern Pride Tree Farm's very big Cathedral Live Oak trees for sale:
Cathedral Live Oak is a Southern or Standard Live Oak grown from a cutting (or cloned) due to special characteristic of a particular tree.
All live oaks we sell are grown in an ideal, quality oriented nursery environment.
Cathedral live oaks range from 8" caliper to 12" caliper or between 9 and 14 years old.
- Caliper is the diameter of the trunk of the tree and is the means of determining the price of live oaks.
Cathedral live oak trees at this caliper size start at about 24' in height with 15' of spread.
- We also supply all sizes in-between with the most popular size the 11"-12" caliper or trees about 30' tall x 23' spreads.
- These trees will weigh in the area of 4 to 6 tons.
Prices start at about $2,300. per tree, bigger trees are more, purchasing in quantities saves!
- Pricing does not include tax if applicable, transport, or cost of offloading and planting of tree/s at your location.
Cathedral live oaks require an ideal minimum spacing of 30' on center.
Download the UF IFAS Extension: Selecting Quality Trees from the Nursery PDF for more information.
Learn more about our Quality Root System Guarantee!